Spiider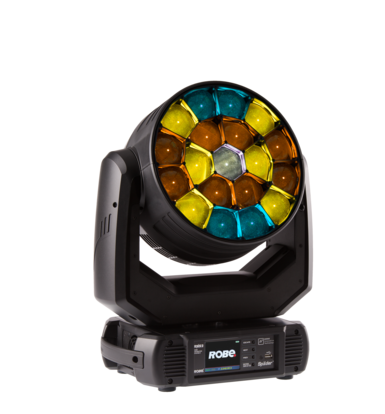 SOURCE

Light Source Type: 1x 60W RGBW and 18x 30W RGBW LED multichips
LED Life Expectancy: min. 20 000 hours
Typical Lumen Maintenance: 70% @ 20 000 hours

OPTICAL SYSTEM

Robe's proprietary optical design
High – efficiency zoom optical system, ratio 12,5:1
Zoom range: 4° – 50°
Fixture total lumen output: 11.000 lm
Light output: 50.100 lx @ 5 m

DYNAMIC EFFECTS

Colour mixing mode RGBW or CMY
Individual control of each RGBW pixel
Variable CTO: 2.700K – 8.000K
Virtual Colour Wheel: with 66 preset LEE swatches
Tungsten lamp effect at whites: 2.700K and 3.200K (red shift and thermal delay)
Colour rainbow effect with variable speed
Pre-programmed pixel effects with colour, dimming and strobe chases, waves and pulses at variable speed and direction
Innovative Flower Effect: rotating in both directions at variable speed (patent pending)
Strobe effect: variable speed (max. 20 flashes per second)
Pre-programmed random strobe & pulse effects
High resolution electronic dimming: 0 – 100%

CONTROL AND PROGRAMMING

Setting & Addressing: ROBE Navigation System 2 (RNS2)
Display: QVGA Robe touch screen with battery backup, gravitation sensor for auto screen positioning, operation memory service log with RTC, stand-alone operation with 3 editable programs (each up to 100 steps), built-in analyser for easy fault finding
Protocols: USITT DMX-512, RDM, Art-Net, MA Net, MA Net2, sACN, Kling-Net
Wireless CRMX™ technology from Lumen Radio (on request)
DMX Protocol modes: 10
Control channels: 49, 27, 33, 90, 27, 46, 91, 110, 103, 122
Pan/Tilt resolution: 16 bit
R,G,B,W colour mixing: 8 or 16 bit (internal 18 bit)
Zoom: 8 bit
Dimmer: 8 or 16 bit (internal 18 bit)

MOVEMENT

Pan movement: 540°
Tilt movement: 230°
Movement control: Standard and Speed
Controllable speed of Pan/Tilt movement
EMS™: Electronic Motion Stabilizer system for Pan & Tilt reducing beam deviation caused by truss movement or vibration (Patent pending)
Automatic Pan/Tilt position correction

THERMAL SPECIFICATION

Maximum ambient temperature: 45 °C (113 °F)
Maximum surface temperature: 75 °C (167 °F)
Minimal operating temperature: – 5°C (23 °F)

ELECTRICAL SPECIFICATIONS AND CONNECTIONS

Power supply: Electronic auto-ranging
Input voltage range: 100-240 V, 50/60 Hz
Power consumption: max. 600 W
Power in connector: Neutric powerCON TRUE1
DMX and RDM data in/out: Locking 3-pin & 5-pin XLR
Ethernet port in/out: RJ45
Embeded Ethernet switch 10/100 Mbps: 1 x in / 1 x out

APPROVALS

CE Compliant
cETLus Compliant (pending)

MECHANICAL SPECIFICATION

Height:  477 mm (18.7")
Width:   390 mm (15.3")
Depth:   286 mm (11.3")
Weight: 13,3kg (29.2 lbs)

RIGGING AND MOUNTING

Mounting positions: Horizontally or vertically
Universal operating position
Mounting points: 2 pairs of 1/4-turn locking points
2x Omega adaptors with 1/4-turn quick locks
Safety cable attachment point
Tilt transport lock

INCLUDED ITEMS

User Manual
Omega Adaptor CL-regular 2 pcs
Power cord including powerCON TRUE1 In connector

ACCESSORIES

EggCrate: 10980317
Trigger Clamp Doughty: 17030386
Safety wire 35 kg: 99011963
Single Top Loader Case: 10120195-01
Dual Top Loader Case: 10120201-01
Quad Top Loader Case: 10120202-01
Foam Shell: 20020284

LEGAL

Spiider is Registered Trademark of Robe lighting s. r. o.